Leprosy, a relatively common chronic contagious disease having diverse modes of clinical presentation, can mimic a variety of unrelated diseases. For proper and adequate treatment, the diagnosis must be made accuratel...
Abstract
Full Text
Background: A gap between best practice and actual clinical care exists and this can be overcome by evidence‑based practice (EBP), which is essential to improve the clinical decision making. A strategy to reduce ...
Abstract
Full Text
Perirectal epidermoid cysts are congenital cysts originating from the ectodermal germ cell layer of the hind gut. Their presenting symptoms are most often nonspecific and distinguishing them from other presacral devel...
Abstract
Full Text
Fabry's disease is an X-linked lysosomal storage disorder caused by a deficiency of alpha-galactosidase A enzyme with the progressive accumulation of globotriaosylceramide in vascular endothelial cells leading t...
Abstract
Full Text
Indexed in
---
PubMed Central
Index Copernicus
Emerging Sources
Citation Index
Abstracted/Indexed in
---
Include Baidu Scholar
CNKI (China National Knowledge Infrastructure)
EBSCO Publishing's Electronic Databases
Exlibris – Primo Central
Google Scholar
Hinari
Infotrieve
National Science Library
ProQuest
TdNet
African Index Medicus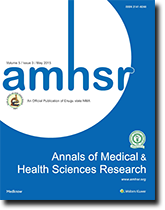 The Annals of Medical and Health Sciences Research
is a bi-monthly multidisciplinary medical journal.
more >>