Osunde OD
*,
Saheeb BD
and
Bassey GO
Background: The surgical extraction of impacted third molars is a common oral surgical procedure, and it is often associated with complications such as sensory nerve damage, dry socket, pain, swelling, trismus, infect...
Abstract
Full Text
Hongal S
,
Torwane NA
*,
Chandrashekhar BR
,
Saxena V
and
Chavan KR
Background: Eunuchs are considered as the most vulnerable, frustrated, and insecure community. The accessibility to medical and dental facilities for the eunuchs is nearly nonexistent. Due to these reasons, they might...
Abstract
Full Text
Ikeako LC
*,
Ezegwui HU
,
Onwudiwe E
and
Enwereji JO
Background: With the world‑wide availability of ultrasound services even in the developing countries, routine ultrasonography in pregnancy remains a controversial issue. However, in this era of reproduct...
Abstract
Full Text
Ikeako LC
*,
Ezegwui HU
,
Ajah LO
,
Dim CC
and
Okeke TC
Background: Sexually transmitted infections and human immunodeficiency virus (HIV)/ AIDS are a major public health concern owing to both their prevalence and propensity to affect offspring through vertical transmissio...
Abstract
Full Text
Ibrahim OA
and
Olusanya BA
*
This case series aims to describe the clinical features, management, and outcome of occupational eye injuries caused by cow horns and to recommend possible preventive measures. A review of patients with cow horn infli...
Abstract
Full Text
Sisodia N
* and
Manjunath MK
Extra oral sinus of odontogenic origin occurs when the purulent by‑products of dental pulp necrosis spread along the path of least resistance from the root apex to the skin on the face. Patients presenti...
Abstract
Full Text
Akal A
*,
Goncu T
,
Boyaci FN
,
Sak ZHA
,
Yalcin F
,
Ozkan U
and
Ulas T
The aim of this report is to emphasize that corticosteroids should not be prescribed when the etiological factors remain unidentified. A 34‑year‑old male visited our ophthalmology clinic su...
Abstract
Full Text
Odetunde OI
,
Aderibigbe AO
,
Chinawa JM
*,
Odetunde OA
,
Okenwa WO
and
Onyemaechi Ndubisi OC
Neonatal osteomyelitis (NO) is said to be rare and uncommonly reported in the sub‑region. Although this may be true, either because the cases are under‑diagnosed...
Abstract
Full Text
Emegoakor CD
*,
Dike EI
and
Emegoakor FC
Incisional hernia represents a breakdown or loss of continuity of a fascial closure. These hernias are of particular concern not only for the high recurrence rates among them but also for the challenges that follow th...
Abstract
Full Text
Özdemir Ö
*
I read an article by Zaidi et al. titled to "A study on assessment of mast cell (MCs) in oral squamous cell carcinoma (OSCC)" with great interest.[1] We are concerned about their meandering conclusion pres...
Abstract
Full Text
Uchenna I Nwagha
*
In the article which appeared at page 341 of Jul-Sep 2013 issue of the 'Annals of Medical and Health Sciences Research',1 an author's name was misspelled. The author's name should appear as Rakhshani A, in...
Indexed in
---
PubMed Central
Index Copernicus
Emerging Sources
Citation Index
Abstracted/Indexed in
---
Include Baidu Scholar
CNKI (China National Knowledge Infrastructure)
EBSCO Publishing's Electronic Databases
Exlibris – Primo Central
Google Scholar
Hinari
Infotrieve
National Science Library
ProQuest
TdNet
African Index Medicus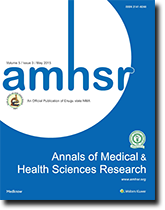 The Annals of Medical and Health Sciences Research
is a bi-monthly multidisciplinary medical journal.
more >>