Background: Increasing population, fast paced industrialization, increased, competitiveness, unanticipated problems in the work place have increased the stress among the females working in health care in recent times....
Abstract
Full Text
Background: The last decade has seen significant progress in understanding of the pathophysiology, anatomy and management modalities of pelvic organ prolapse. A review of the way we manage this entity in a low resourc...
Abstract
Full Text
Background: In pursuit of a more "holistic" dentistry and an increasing focus on promoting oral health, dental students are increasingly being trained to take a more active part in health promotion and edu...
Abstract
Full Text
Background: Trigger finger is a common disorder of upper extremity. Majority of the patients can be treated conservatively but some resistant cases eventually need surgery. Aim: The aim of this study is to evaluate th...
Abstract
Full Text
Background: Prednisolone and pentoxifylline (PTX) have been shown to be individually useful in severe alcoholic hepatitis with Maddrey discriminant function (MDF) score ≥32. Previous report suggests that PTX is pro...
Abstract
Full Text
Background: Chronic periodontitis is gaining increasing prominence as a potential influnce on systemic health. Time to conception has been recently investigated in relation to chronic periodontitis among Caucasians. T...
Abstract
Full Text
Background: Insulin resistance (IR), as a result of unhealthy life‑styles and westernization, most likely contributes to the increased incidence of metabolic abnormalities and consequently, the development of met...
Indexed in
---
PubMed Central
Index Copernicus
Emerging Sources
Citation Index
Abstracted/Indexed in
---
Include Baidu Scholar
CNKI (China National Knowledge Infrastructure)
EBSCO Publishing's Electronic Databases
Exlibris – Primo Central
Google Scholar
Hinari
Infotrieve
National Science Library
ProQuest
TdNet
African Index Medicus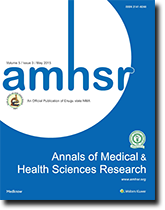 The Annals of Medical and Health Sciences Research
is a bi-monthly multidisciplinary medical journal.
more >>